Hippy Hippy Shakes: Investing With An Environmental Conscience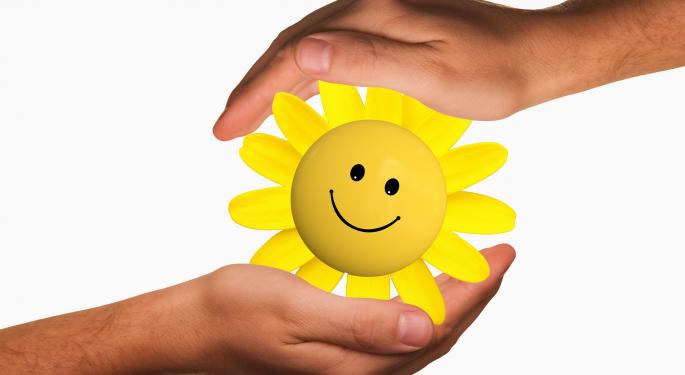 There are a growing number of socially responsible exchange-traded funds on the market today. One of the more fertile areas of socially conscious ETFs are those funds with an environmental tilt, including the iShares MSCI ACWI Low Carbon Target ETF CRBN 1.63%.
CRBN And LOWC
Although it can be viewed as a niche ETF, CRBN has undoubtedly been successful. The ETF, which will celebrate its second anniversary in December, has nearly $250 million in assets under management. CRBN and the rival SPDR MSCI ACWI Low Carbon Target ETF NYSELOWC were created for the U.N. Joint Staff Pension Fund. Both ETFs follow the MSCI ACWI Low Carbon Target Index.
Related Link: How To Lose $9 Billion: Be On The Wrong Side Of A Hedging Trade
That index is "composed of large and mid-capitalization developed and emerging market equities with a lower carbon exposure than that of the broad market," according to iShares.
Social Responsibility And Investing
"We believe climate-aware investing is possible without compromising on traditional goals of maximizing investment returns, and indeed is necessary to the achievement of those goals. Our research suggests there can be little downside to gradually incorporating climate factors into the investment process—and even potential upside," said BlackRock in a recent note.
However, socially responsible investing is not risk-free. Just look at CalPERS, the pension plan for California public workers. Known for heaping lavish, unsustainable benefits on workers that need only to work into their early '50s, CalPERS, which is also known for mediocre, nowhere close to S&P 500 returns, dumped tobacco stocks in 2000. Yet, Altria Group Inc MO 3.2% has gained nearly 150 percent over the past five years. Now, in what can only be deemed a sheer act of desperation and admitting of defeat, CalPERS is thinking about investing in tobacco stocks once again.
Then there are the numerous endowments that, in recent years, dumped fossil fuel stocks. That worked when oil was in a bear market, but energy is this year's best-performing S&P 500 sector. Energy accounts for 5.9 percent of LOWC's weight, making it the ETF's seventh-largest sector weight.
Apple Inc. AAPL 1.91% is LOWC's largest holding at 1.6 percent, and technology is the ETF's second-largest sector weight at 15.6 percent. Apparently, there is not much of a carbon footprint involved in the mining of rare earth minerals used to make smartphones and tablets.
Of course, things can change, and LOWC and its brethren have the potential to deliver for investors over the long term. However, the ETF is up just 3.5 percent since inception, less than half the S&P 500's 7.1 percent gain over the same period.
Do you have ideas for articles/interviews you'd like to see more of on Benzinga? Please email feedback@benzinga.com with your best article ideas. One person will be randomly selected to win a $20 Amazon gift card!
© 2016 Benzinga.com. Benzinga does not provide investment advice. All rights reserved.